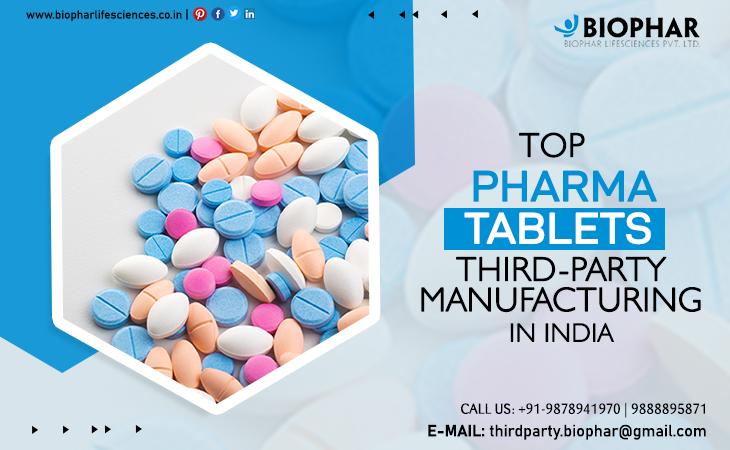 Top 10 Pharma Tablets Manufacturing Companies in India - Pharmaceticals tablet drug dosage form dominates the pharmaceuticals industry with trillions of production every day. The demand is sky high being compatible with every drug formulation. In terms of volume, India is rated third, and in terms of value, it is ranked fourteenth for pharmaceutical manufacturing. With a robust network of roughly 3000+ drug formulations and 10,500+ manufacturing factories, the country has built a huge domestic pharmaceutical market. There are so many pharma production companies in India that provide manufacturing services all over the nation. Here we will discuss the Top 10 Pharma Tablets Manufacturing Companies in India.
List of Pharmaceuticals Tablet Manufacturers & Suppliers 
Many pharma businesses now outsource their desired pharma goods to other formulating units, which is known as third-party manufacturing. Even if a firm has its own manufacturing facilities, it still buys its products from other pharmaceutical companies.
Biophar Lifesciences Pvt. Ltd.
In the Indian market, Biophar Lifesciences is the top pharma business that makes and markets high-quality Pharma tablet medications. The company is well-known for its precise and safe medicine formulations, which are produced with clients' needs in mind. They have their own manufacturing plants, which are equipped with state-of-the-art technology and are accredited by GMP institutes. The DCGI and FDA approve the formulations, which are then converted into Pharma tablets, capsules, syrups, lotions, ointments, and other products. In order to meet the bulk requirements of customers, the company has established high-tech machinery and the latest technology in their production plants to produce high-volume pharma stock in a specified time frame.
Top-quality drug range
Self manufactruing units
Skilled and experienced staff
Best packsging techniques
Widely spread distribution network
Lifecare Neuro
Lifecare Neuro has a 26-year track record of producing and selling high-quality neurology products and medications at reasonable pricing. The manufacturing units are located in Baddi, Himachal Pradesh's Special Economic Zone. Lifecare Neuro is well-known for its psychiatric and neurology drugs, and a number of pharmaceutical companies have partnered with the company to outsource the highest-quality neuro pharma products. The company is ISO-certified, and the GMP and WHO certifications have validated all of the medicinal compositions. The company becomes the top Neuro pharma manufacturing company in India because of our production technique, packaging style, and delivery facilities.
The company is certified with multiple accreditions like ISO, WHO, GMP, GCLP, HACCP etc, 
They have collaborated with some of leading pharma companies like Sun Pharma, Cadila etc. 
Lifecare Neuro has won multiple awards. 
Immpressive Range of pharma tablet range for manufacturing. 
Located in excise free zones of Baddi etc. 
Swisschem Healthcare
Swisschem Healthcare's high-quality pharmaceutical products define excellence and perfection. The organization is dedicated to providing the best healthcare solutions to customers at cheap prices, which is why it has achieved all quality and effectiveness certifications. The company is India's top pharmaceutical manufacturer, with the capacity to produce high-volume pharmaceuticals such as tablets, capsules, gym supplements, pharma pellets, and more. The company is able to offer an economical range of quality pharma products because of state-of-the-art production processes and its location in an excise duty-free zone.
The company has multiple divisions specialising in different segments like derma, ayurvedic, cardiac diabetic, dental, ophthalmic etc. 
Certified units of GMP WHO manufactured under strict regulations. 
Wider network of logist partners across India. 
Operate across India, promising quality and better customer satisfaction.
Attractive range of drugs list offers to clients. 
Arlak Biotech
Arlak Biotech is the most reliable company in India when it comes to healthcare medications. Because it follows the advice of modern science, the company becomes the best choice when it comes to manufacturing companies in India. The company has its own manufacturing facility with complete ISO and GMP certifications, ensuring the highest quality in our medicines. They have a wide range of highly demanded allopathic formulations in the form of capsules, tablets, syrup, ointments, cream, etc. The company is the fastest-growing pharma firm in terms of manufacturing and supplying the best healthcare solutions at reasonable rates.
Attractive range of more than 500+ drugs covering different therapeutic segments. 
Great quality is assured here. 
Reasonable Third party tablet manufacturing services. 
Skilled workforce and better quality production facilities etc. 
Iskon Remedies
The corporation dominates the Indian pharmaceuticals sector because of years of experience and dedication. Iskon Remedies is India's top manufacturer of human and veterinary medications, distributing its high-quality pharma products to well-known pharma firms looking to extend their product lines, whether it's human or animal-related medicines. With the aim of introducing new medicines in the market, the company invested a good amount in the research and development team. The company always works on the enhancement and differentiates the product portfolio to create a remarkable name in the pharma industry.
Krishlar Pharmaceuticals
Krishlar Pharmaceuticals, situated in Chandigarh, was founded in 2005 with the goal of providing contract manufacturing services in India and aiding several top pharmaceutical firms by supplying high-quality pharmaceuticals. The firm is well-known for its on-time delivery method and sturdy packing. Krishlar values quality and efficiency, and its manufacturing plants follow GMP and WHO guidelines and are staffed by knowledgeable employees. The corporation sees the importance of innovation and invests heavily in a research staff that works tirelessly to develop new drug formulations that are successful.
Asterisk Healthcare
 Asterisk Healthcare is an ISO-certified company in India that is offering all kinds of pharmaceuticals with a quality and cost-effective nature. Today, the corporation is ranked as India's third-largest manufacturer. The company employs competent and experienced employees who are extremely dedicated to their duties and never let any unqualified drug range pass from the company to the final market, with a complete focus on world-class research, quality control, and a sense of satisfaction. Asterisk understands the value of life that is why they provide the best healthcare solutions at possible rates.
Saphnix Life Science
 The company is established in the years of 2008 and has become a major player in the pharma industry and produces and distributes high-quality pharma products in the form of tablets, capsules, syrups, ointments, etc. Saphnix Life Science adheres to all the social and environmental responsibilities by making safe, eco-friendly, and cost-effective medicines. There are many pharma companies associated with the company and providing the best healthcare solutions all over the nation with their brand names.  The drug range is examined by the chemical scientist who follows the norms of the Indian Medical Association.
Associated Biotech
Associated Biotech is a renowned name in the market pharma industry by having 16 years of experience in this field. From the passing years, the company always satisfied their customers and associated by delivering them high-end medical solutions at affordable rates. The company has the art of state productions units in Baddi, Himachal Pradesh, that reduce the cost of production and make the pharma products easier to buy. Associated Biotech is an ISO-certified company and having all the legal certifications of ISO, GMP, and DCGI and has become the first choice for contract manufacturing in India.
Hacks and Slacks Healthcare
Hacks and Slacks Healthcare is a company that deals in the quality pharma tablet dermatology manufacturing in India. With the complete assistance of modern technology and high-tech machinery, the company is able to formulate the best quality derma products in bulk production. The company is the best derma manufacturing company with the certifications of ISO and each formulation is approved by the GMP and WHO. HAcks and Slacks have independent and art of state manufacturing facilities in excise duty-free zones in India. That reduced the extra cost and make the derma range more affordable.

Conclusion:
Thus here is the most reliable manufacturing companies are explained that give the best services whether it is quality products or production facilities. So is any pharma company looking for the best manufacturing company then choose one of them and get several benefits.